Here's Inside Info on Florida Retirement Communities, Homes, Villages, and more…
The Most Important Letter You'll Ever Read If You Are Considering Florida Retirement (or have recently made the move).
If you're serious about retiring to Florida, then the following personal message
from a seasoned, veteran retiree is must-read material…
From: Robert Cotter, PhD
Re: Your Florida Retirement
During the year 2017, a new wave of Baby Boomers will be turning 60 and be on their way to retirement. If you are in that group, congratulations! You are on the verge of a most exciting time in your life.
As early retirement has become more in voque, there will be huge populations of younger retirees entering the retirement system and flocking to traditional destinations.
At the top of this list will be the gorgeous, "Sunshine State" of Florida, as it has been for decades.
But heed this warning: Awaiting you, the new retiree, will be limitless opportunities and opportunists, looking for you and your hard earned savings.
When I decided to retire in Florida some 24 years ago (part time at first), the state was a very different place. Since that time, the changes and population growth have been nothing short of astounding. No doubt you have read about the explosion of building and land development in the state if you have done even the most rudimentary research.
Yet, after a huge price run-up, Florida's housing market crashed, and prices have adjusted dramatically the past 9+ years.
Just look at this list of recent property value changes below. Here's how much Florida retirement home values have dropped since 2007!:
Median Florida Home Values
Metro Area
% Change 2007-2015
Cape Coral – Fort Myers
-58.8
Port St. Lucie
-53.6
Lakeland
-52.2
Orlando
-49.6
Sarasota – Bradenton – Venice
-48.8
Miami – Fort Lauderdale – Miami Beach
-48.4
Naples
-47.7
Deltona – Daytona Beach – Ormond Beach
-47.6
West Palm Beach
-45.0
Tampa – St. Petersburg – Clearwater
-42.1
Palm Bay – Melbourne – Titusville
-41.7
Jacksonville
-33.8
Pensacola – Ferry Pass – Brent
-25.6
A Buying Opportunity?
Astounding, isn't it? Yet whenever there is a frenzy going on like this, common sense can be lost in the shuffle. The "buy now or miss out" mindset typically takes hold and tragic mistakes can be made by eager, yet uniformed retirees.
Unfortunately, these mistakes can have devastating effects on their chances for a fulfilling, yet practical retirement in Florida. They are effectively "rolling the dice" with their hard earned retirement savings.
My journey into FL retirement has been an incredible odyssey with its share of triumphs, challenges, and a multitude of discoveries.
Because of my inquisitive nature, I decided to document
this journey not only for myself, but for family and friends about to begin their own retirement adventures.
You see, so many Florida retirees are making mistakes of which they are not even aware.
Over the last 20+ years, I have been taking note of the tales from the scores of retirees I've met. They each have their stories to tell, and some of them would break your heart.
In doing so, I have assembled the most powerful and useful collection of Florida retirement strategies, tips, best kept secrets, and resources available anywhere online…and I'd like to share them with you.
You too can be part of the ever growing, dynamic group of folks retiring to the Sunshine State.
Take the first step to a fantastic Florida Retirement by requesting your FREE Insider's "Florida Living Forecast Report":
In our New, 2017 Report you'll discover the Inside Scoop on important issues impacting prospective Florida retirees and FL home buyers including:
Current Florida Condo and Home Prices with Expert Analysis.
Real Estate Sales Trends – Is it Time to Buy?
Best Places to Retire in Florida

Join 1000's of others who are reaping the benefits of this up-to-date, critical info.

FREE for a

Limited Time Only

.
Instant Access – Learn Right Now!
Simply enter your First Name and valid Email Address
to receive the absolutely FREE Special Report:
Your information will not be sold or disclosed to anyone.
We respect your privacy and hate junk email with a passion.
Your Florida retirement marks the start of a most rewarding (and perhaps daunting) time of your life. Be prepared with an up to date arsenal of knowledge before you make any big decisions that could affect the rest of your life.
This is your opportunity to learn from my successes and failures
"I whole heartedly recommend this book…"
"My wife and I decided to retire to Florida but we had no inkling of where to go or what this move would entail. Robert's book opened our eyes to the possibilities and some drawbacks to our plans for retirement to Florida. I whole heartedly recommend this book to all who are thinking of moving to Florida for retirement. It is full of important information and insights and will help avoid a lot of mistakes and stress in planning your move."
Jerry Seltzer
Hackensack, N.J.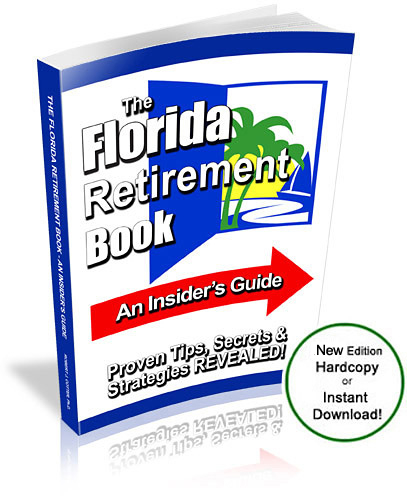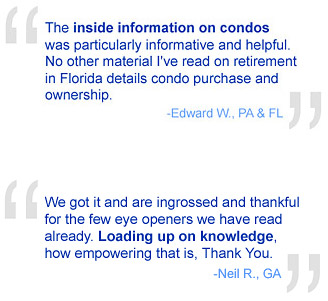 As seen on



Now available as a simple, Immediate Download or in Hard Copy
You can be
reading the new 12th Edition Minutes from now!
Here's a sneak peek at what you're going to find in the pages of the New 12th Edition of "The Florida Retirement Book – An Insider's Guide":
A sobering analysis of Florida's Sub Prime Mortgage Crisis.
Has Florida's Real Estate Bubble Burst or is it just a fast leak?
10 Critical Questions you must ask your Florida realtor.
What "Location, Location, Location" is best for you? Florida has 67 counties, each with its own unique personality.
Beware of the "Model Home" Trap.
Should you rent out your Florida Home to help pay for it?
The fastest growing FL regions (including Central Florida) Don't get left behind!

Urgent

– A Developing Threat To Manufactured Housing Parks.
Is Ocean or Gulf Front Property Really Worth The Added Cost?

Special Section

An in depth look at Florida's

devastating

Hurricane Seasons and what they mean for your retirement strategy.
Flood insurance…do you need it?
The top ten counties with the most residents over 65.

Critical

– Is your real estate agent coming clean about your community's sewage treatment plant?
Detailed population data that will help prevent you from moving to an area with the same problems that you want to leave behind!
Steps to take to become a

bona fide Florida resident.

The cost of living is low in Florida! Learn why and take advantage.
A close look at Florida tax considerations for new retirees and property owners.
Don't forget to add in soaring homeowner's insurance costs to your budget.
If you want warm winter weather in Florida, avoid these counties (or bring some winter clothes)!
Learn why you'll need to get away from the Florida summer.
What you must know about condominium fees.
Can you really trust your condo governing board?
Considering a Golf Course Community? Be prepared for the costs!
Is the country club lifestyle really for you?
Why you really need to check out the medical facilities and practitioners.
Follow the money trail. The counties with the highest incomes are identified.
Why you should think twice before settling on an island (key) that is accessed by an extension or drawbridge.
Ethnic enclaves identified.
and

Much, Much More!
"Good morning Mr. Cotter,
Thank you for your Florida Retirement Book. The inside information on condos and country clubs was particularly informative and helpful. I appreciate your making such valuable information available to new (returning in my case) Florida residents.
Sincerely,
Ed W.
State College, PA
"I've been looking for a resource like this for years. It's great to have all the information in one place. The information in Chapter 3 alone is worth more than the price of the material."
Patricia H.
Sinking Spring, PA
And here's the best news…
I've assembled this information in the form
of an Ebook for Immediate Download! (Hard Copy also available).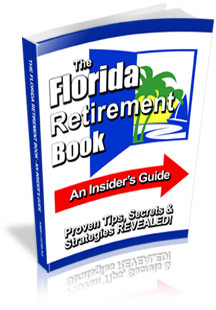 "The Florida Retirement Book – An Insider's Guide"
delivered to your computer Instantly!
At the modest price of $29.95 (about $1.50/yr of my Florida retirement know how) this is an incredible offer on a unique resource.
But during a brief, annual promotional period scheduled to end in February 2017, the new 12th Edition of "The Florida Retirement Book – An Insider's Guide" is being offered for the discounted price of only $19.95 (over 33% off).
I have also decided to make this unique, Time Sensitive Offer:
Order Now and you'll receive our Most Popular and Unique Feature:
FREE LIFETIME UPDATES
to the "The Florida Retirement Book – An Insider's Guide".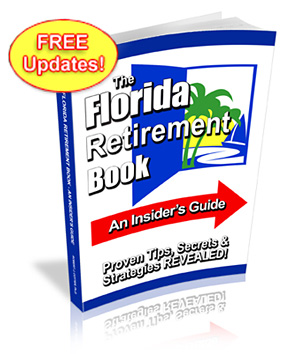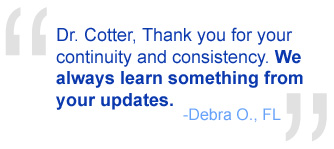 The state of Florida and it's retirement communities are in a constant state of change. I am passionate about continuing to discover and document these changes (my wife may say a bit too passionate).
In fact, the book has already had numerous, timely content updates including vital information on the recent mortgage crisis, property taxes, real estate, hidden costs, hurricanes, undervalued areas, and much more.
When a new version of the book is updated, we will notify all those who have purchased an Ebook or Hardcopy with the Free Updates and email instructions on how to easily and immediately download the full, updated version (or just the new sections if you prefer) for free. You can also just read the updates online if you'd like.
When I update "The Florida Retirement Book – An Insider's Guide" with the latest strategies, tips, best kept secrets, and resources, you'll get fresh information before anyone else — automatically and free. How many other products or books do you own that stay fresh after purchase?!
Take charge of your Florida Retirement and Act Now to ensure you receive the Free Updates.
Note: Book Updated December 2016!

Your No-Risk 45 Day 100% Money-Back Guarantee
If after exploring "The Florida Retirement Book – An Insider's Guide you feel you haven't benefited from my personal insight and retirement strategies, email me at info@gator4166.temp.domains/~floridar139. I will cancel your updates and issue you a prompt, courteous refund of your purchase price (ebook version). Hardcopy product must be returned in original condition for full product price refund minus shipping.
Get Instant Access to your Immediate Download
(even if it's 3:00 AM!)
Works with any PC or MAC computer
It's EASY to
download and read, even for the Novice! You can also print the entire book or pertinent sections if you desire.
or have the Hardcopy delivered right to your door step!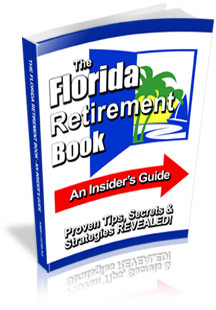 Order the newly updated Florida Retirement Book – $29.95
New Edition Special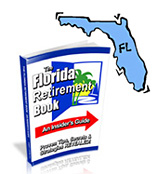 Take 33% Off, Very Limited Time
only $19.95
Choose Instant Download or Hardcopy (shipped worldwide, same price!):
Note: We are planning a price increase in February 2017 to reflect all the recent content added to the New 12th Edition. So if you're at all interested, take advantage of this savings, the Free Updates, and Act Now.
The Florida Retirement Book has all the information that my wife and I have been searching for. This insider's guide answered our questions, and most importantly gave us the 'jump start' needed for a successful re-location to the Sunshine State.
Your insight and experience have proven invaluable. Thanks again!"
Jeff G.
Dartmouth, MA


Florida Retirement Info is a Paypal Verified Organization.